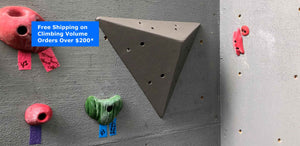 TEXTURED CLIMBING VOLUMES
manufactured in USA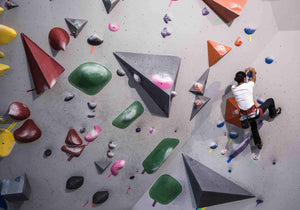 Climbing Volumes Built By Climbers
We are a small business run by climbers for climbers.
We get it. 
Whether you are a routesetter in the gym or the dude with the home woodie, your next climb deserves to be interesting and challenging.
That why we are here.
QUALITY MATERIALS + QUALITY CRAFTSMENSHIP
Constructed Without Compromise
Anyone who has tried a cutting a compound mitre cut knows how hard it is to do precisely. Fortunately we've been practicing the art of woodworking for years and our experienced team is dedicated to perfection on every volume.
Quality Materials
Every volume is built with high-grade materials. We use 3/4" ACX, 13-ply birch lumber. This allows us to be creative in creating unique shapes.
Built To Last
To maximize durability all our volumes use industrial grade t-nuts and pre-drilled mounting holes with steel washers. We know the joy of climbing comes from tackling new problems, so we want our volumes to last through years of creative routesetting.
Testimonials
Awesome volume to add to our home climbing wall! Quick shipping, great communication from seller, and a quality product. We love it and would highly recommend :)

Valerie A.
Wow. I haven't been able to climb in the gym in months and this is the first time my home wall has felt as fun as the gym or crag.

Trevor K.
Thank you for the amazing customer support. You went above and beyond. Looking forward to your next creations!

@amieclimbs